Missed the EV boom? Consider EV Charging!
Electric Vehicles: The Genie is out of the Bottle
Electric vehicles seem to be overtaking good old internal combustion engine (ICE) vehicles fast. Although electric vehicles have gained lots of attention recently, they first came into existence as early as the late 19th century. Interestingly, electricity was among the preferred methods for motor vehicle propulsion at that time as gasoline cars of the time weren't comfortable and easy to operate. Then improvements in ICE made them commonplace, and electric vehicles got restricted to some niche areas, such as electric trains or small vehicles.
After more than a century's dominance, ICE vehicles look set to be replaced with EVs. Environmental concerns, advancement in battery and EV technologies, falling costs, and governmental support have once again made electric vehicles mainstream. There is no stopping to the growth of EVs now - the genie is out of the bottle!
Global warming has created several alarming issues across the globe in the last few decades. One of the reasons for global warming has been the emission of greenhouse gases. According to a report by PwC, transportation accounts for approximately 23% of global energy-related greenhouse gas emissions, and road transport makes up 72% of that. So, to combat climate change, governments across the globe are trying to have more stringent emission limits for light-duty vehicles. This is one of the main reasons why there is a strong growth in EV adoption.
The number of electric cars on the road has tripled in just three years. Chart 1 below shows how the use of electric cars has increased over the past decade.
Chart 1: Global Electric Car Stock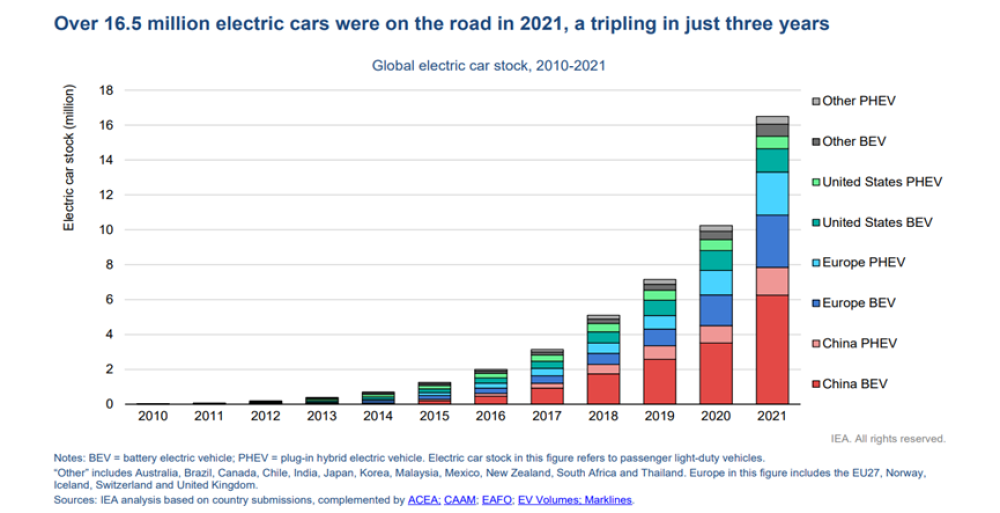 Source: IEA website
The chart below shows the growth in EVs across selected geographies in 2021. China leads in terms of EV sales.
Chart 2: Electric Cars Sales Picking Up in 2021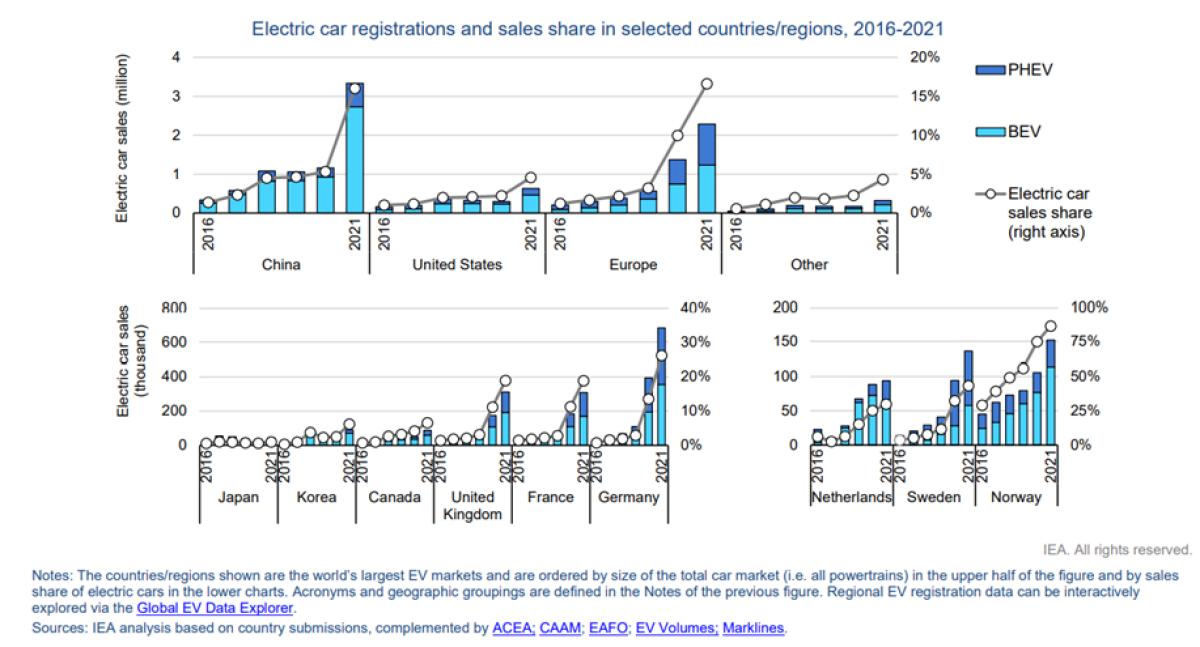 Source: IEA website
EV market is forecasted to grow enormously by 2030
In the coming few years, the number of electric vehicles is bound to increase substantially. A study by McKinsey estimates that the U.S. will have 48 million EVs on road by 2030. Passenger cars are expected to be the dominant part with an estimated number of 44 million, followed by light commercial vehicles (3.8 million), trucks, and buses.
Chart 3: Estimated EVs in the U.S. by 2030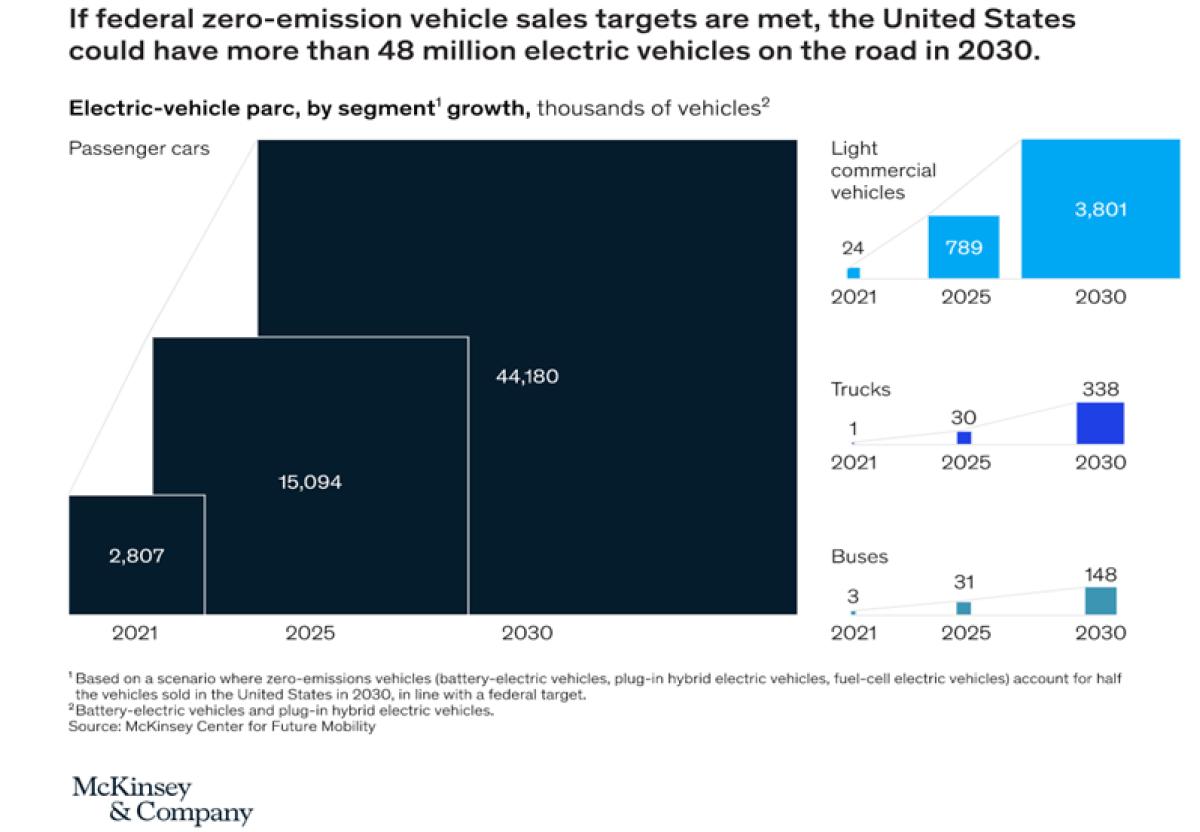 Source: McKinsey & Company
Additionally, one can expect more automobile brands to offer electric options going forward. According to IHS Markit, by 2023, 43 brands will offer at least one electric option compared to just 14 brands in 2018. One can also expect to have more players entering the electric vehicle market by 2030. Various OEMs are trying to create a roadmap to capture a slice of the EV pie.
As seen in the figure below, major automakers are understanding the importance of EVs and are aligning their businesses to cater to this trend. Volkswagen expects 40% of its global sales to be electric by 2030 whereas Toyota aims to sell 5.5 million EVs by 2025. With all major car manufacturers having a roadmap for their EV transition for the coming decade, buyers will certainly have more options to choose from.
Chart 4: Timeline of Strategic OEM Targets for EVs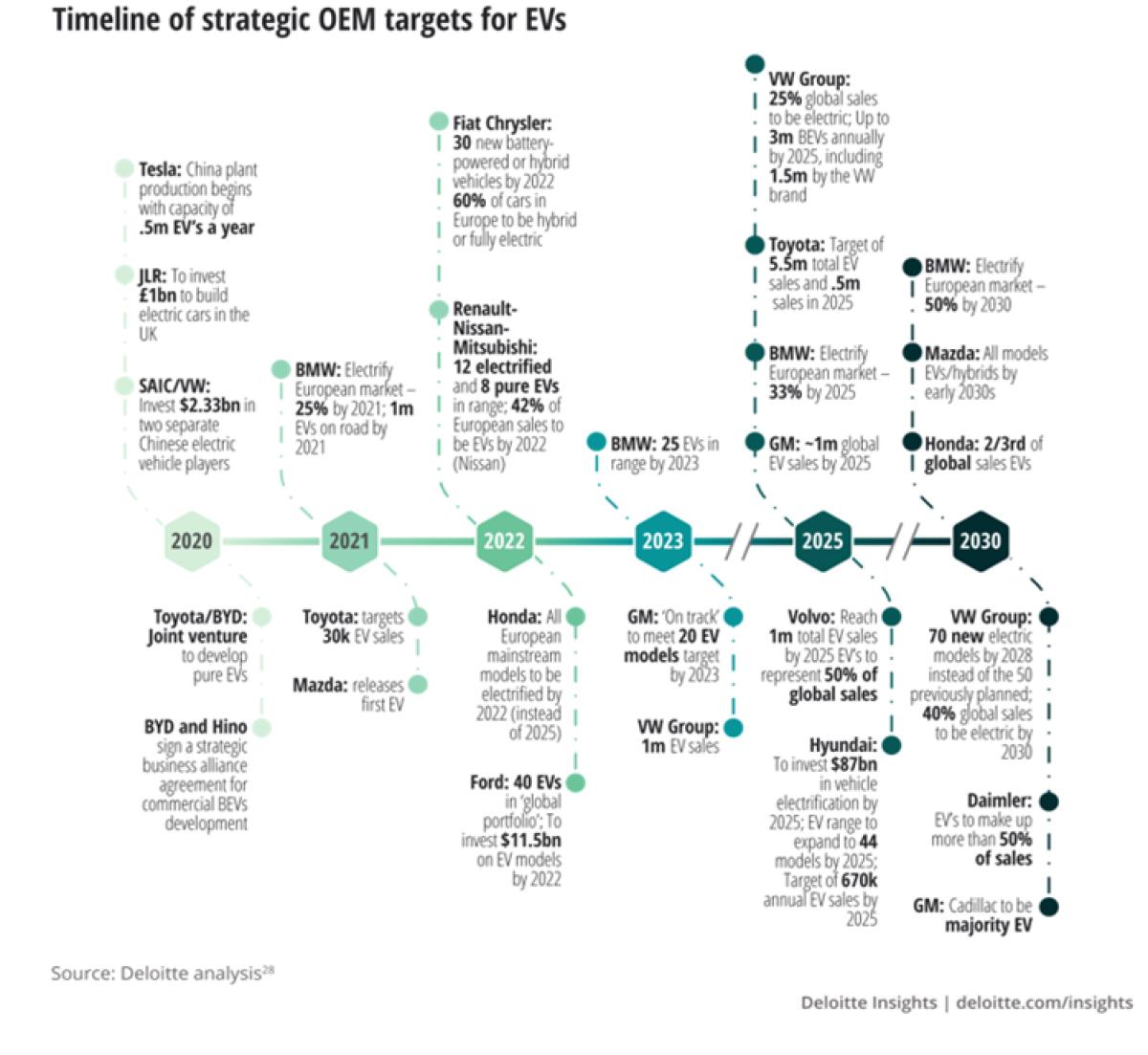 Source: Deloitte
Range improvement and charging infrastructure growth will boost the demand for EVs
Two of the main hurdles in the rapid adoption of EVs are range anxiety and a lack of charging infrastructure. Traditional gasoline-powered vehicles have support of a robust network of gas stations. This makes them a viable transportation medium for all kind of trips. Electric vehicle charging network is still in its nascent stage with most charging points being concentrated in the urban area currently. Additionally, with an average range of less than 400 kms, EV drivers are anxious of travelling to remote areas where there might be limited or no charging options available.
With range anxiety being one of the major hurdles of EV market growth, it is evident that EV adoption can improve with better charging infrastructure and improved range. To be fair to the EV industry, there has been good improvements in the EV range in the past decade. Energy density - the total amount of energy in a system per unit volume - is key to ensuring that EVs have sufficient range. Energy density of batteries for EVs has been rising over the past decade, and now some of the highest performing battery cells can reach energy densities of over 300 Wh/kg, up from around 100-150 Wh/kg a decade ago – meaning that for the same weight, electric cars can now travel twice as far. This progress has been made due to continuous improvement in battery chemistry and cell design. With further advancement in battery chemistry and cell design, one can expect to have still improved ranges in the coming decade.
Chart 5: Evolution of Average Range of Electric Vehicles by Powertrain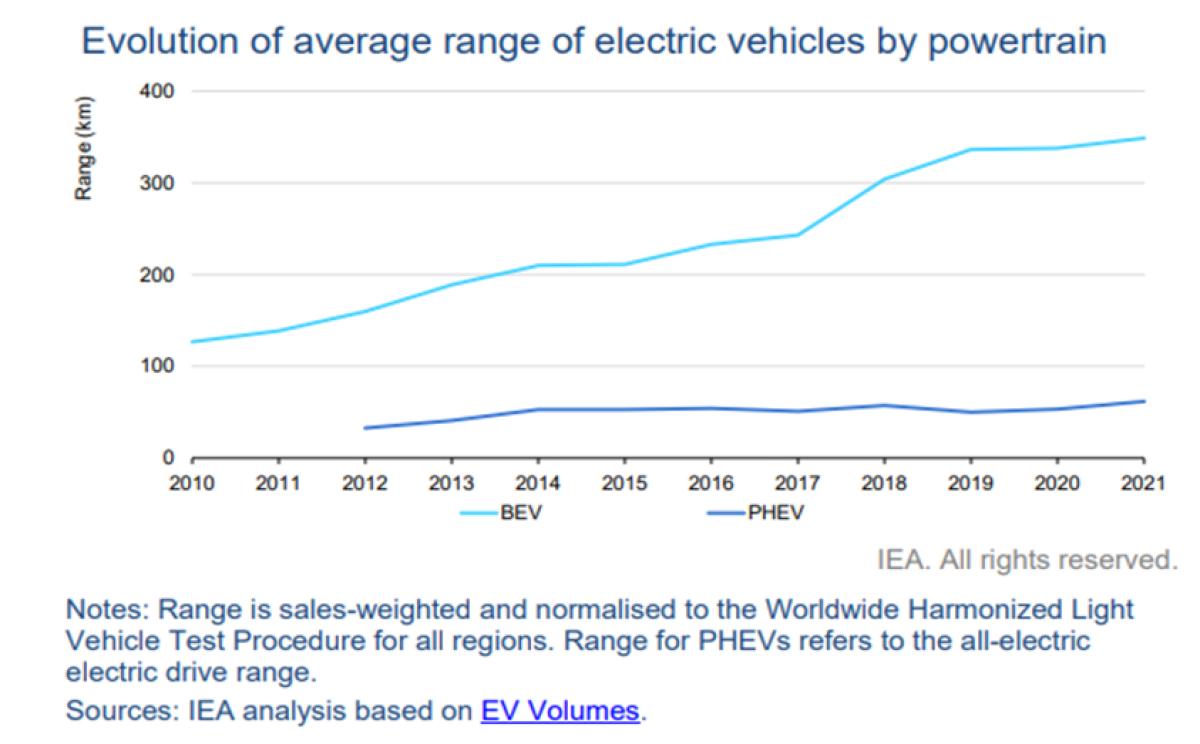 Source: IEA website
Broader EV adoption will need a robust charging infrastructure
Publicly available EV charging points increased in 2021 as compared to previous years. 500,000 public charging points were installed in 2021, which is more than the total stock of chargers available in 2017. China has the maximum publicly available chargers, accounting for about 85% of fast chargers and 55% of slow chargers worldwide.
| | |
| --- | --- |
| Chart 6: Fast Public Chargers | Chart 7: Slow Public Chargers |
| | |
Source: IEA website
The EV sales and EV charging infrastructure present a "chicken and egg problem". Without a good charging infrastructure, one cannot expect to see a rise in EV sales, as this makes the buyer uncomfortable, especially on long trips. However, it is difficult to develop a charging infrastructure unless the market for EV increases meaningfully and there are significant EVs on the road.
Government initiatives for EV charging infrastructure
The governments across the world are trying to improve the EV charging infrastructure with various schemes. This surely gives potential EV buyers some comfort in making a buy decision. With a rise in number of EVs, there will be an accompanying growth in the EV charging infrastructure too, giving rise to a chain reaction. Cumulative EV charging infrastructure investment in the U.S. and Europe is projected to be around $60 billion by 2030 and $192 billion by 2040.
The Bipartisan Infrastructure Law provides $7.5 billion to develop EV-charging infrastructure in the U.S. It aims to have 500,000 public chargers nationwide by 2030.
Meanwhile, China and Europe have the largest EV charging networks in the world. According to a report by the IEA, both China and Europe are looking to enhance their charging infrastructure further. China has two goals: It aims for having a charging infrastructure sufficient to meet the needs of 20 million EVs and it plans for 60%-80% of the country's expressway services to have fast charging stations by 2025. In order to achieve this, the government aims to install community charging facilities, construct urban and rural public charging networks, improve facility maintenance, and enhance power supply. Various regions throughout China offer subsidies for EV charging infrastructure.
The Sustainable and Smart Mobility Strategy of the European Union aims to deploy 1 million publicly accessible charging points by 2025 and 3 million by 2030, up from about 290,000 public charging points today. In 2021, a number of EU member states allocated significant funding to EV charging infrastructure, making use of the EUR 672.5 billion ($796 billion) recovery stimulus package provided by the European Union. In India, the National Highways Authority of India has set an objective to install EV charging stations every 40km-60 km along national highways, covering 35,000 - 40,000 kms of highways by 2023.
The chart below shows the government funding across some countries for public charging infrastructure normalized by light-duty vehicle stock. Governments globally are investing significant amounts to develop a robust EV charging infrastructure, which is a pre-requisite for widespread EV adoption.
Chart 8: Government Funding for Public Charging Infrastructure
Source: IEA website
McKinsey estimates that the U.S. would require 1.2 million public EV chargers and 28 million private EV chargers by 2030
The federal target is to have half of the U.S. vehicle sales to be electric by 2030. If that is achieved, the country will need around 1.2 million public and 28 million private EV chargers by that year.
Chart 9: Cumulative Charger Demand by 2030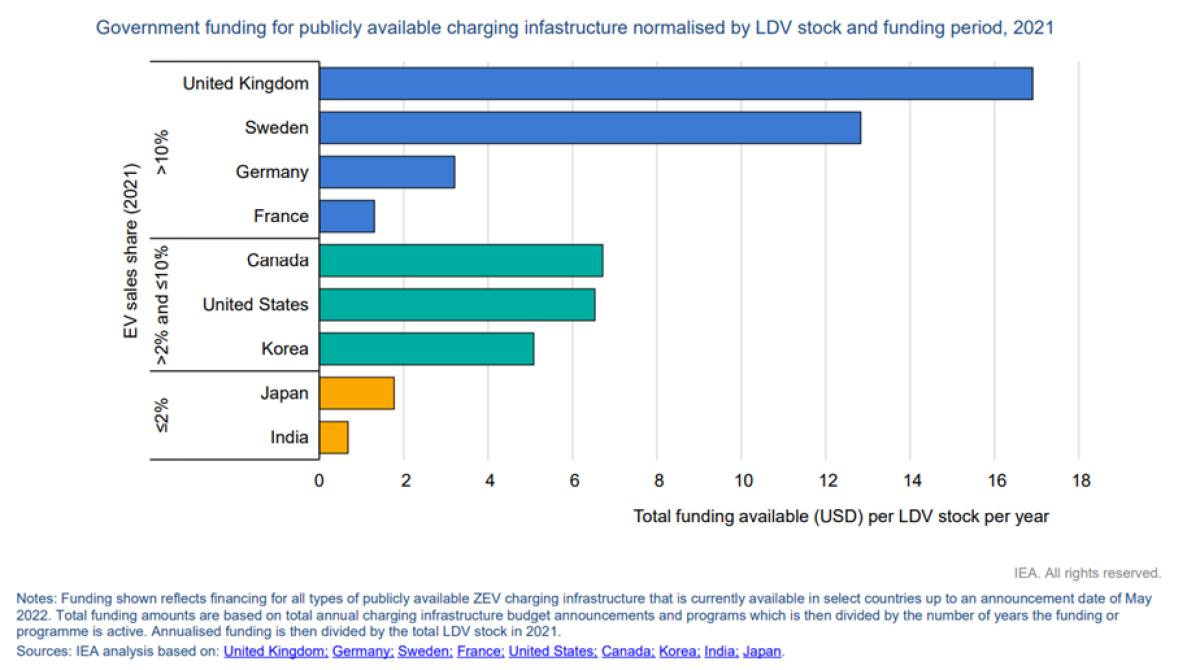 Source: McKinsey & Company
Look at the chart above carefully. The huge black colored boxes are residential chargers. Chargers that are used only by the respective EV-owner. These 1.3 million residential chargers are lying idle when the owner is not using them. At the same time, there are thousands of current and potential EV drivers who face range-anxiety. Some are delaying their EV buying decision, as they fear that an EV may not meet their needs - if they travel a lot or long distances. Others, who own EVs, may not take their EVs for long trips, fearing they might be stuck at some place where there are no chargers around.
Imagine if all the above residential chargers are made available for everyone's use! The homeowner would be happy to share his charger, for a small fee. EV drivers will be confident of taking their EVs for long trips, without range-anxiety. What's more, people who have been putting off their decision to switch to EVs would easily make the choice.
Power Hero is Trying to Accomplish This Goal
The good news is: Power Hero is working to make this goal a reality. What's more, the company has already achieved several significant milestones to make residential chargers available to everyone and they have 4 issued patents with several more pending!
Power Hero is passionate about clean energy and making it possible for everyone to own an electric vehicle. EV growth is greatly held back by the inability to grow the charging grid. The company is determined to prove its Peer-to-Peer economy-sharing platform can solve this capacity problem.
The company's goal is simple: To unlock the full potential of the electric vehicle market by networking power points that already exists!
Power Hero's innovative CameoTM adapter can turn any home charger into a networked one! Here's how it works: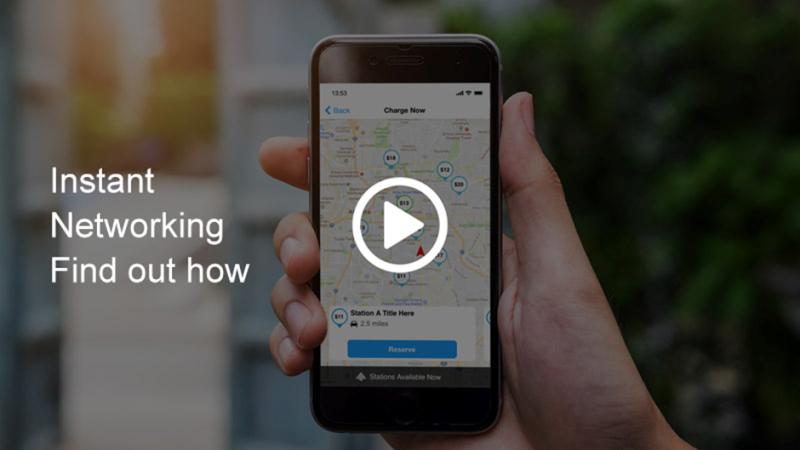 Smart Platform for Making Electricity Public
Power Hero's cloud-based P2P system allows anyone to list, find, reserve, and broker electricity.
EV owners can list their private charging stations for other members.
When you list your private station, you get access to all other private stations on the network for free (others pay monthly membership).
Members can then access a much larger network of chargers when outside of metro areas - 10 times the number of regular stations.
Additionally, anyone who owns access to parking near a standard power outlet can list and price an overnight charging spot.
Members can book overnight parking for short or long-term periods.
Smart hardware enhances the platform by connecting any charger or electrical outlet to the company's system for dynamic scheduling and pricing.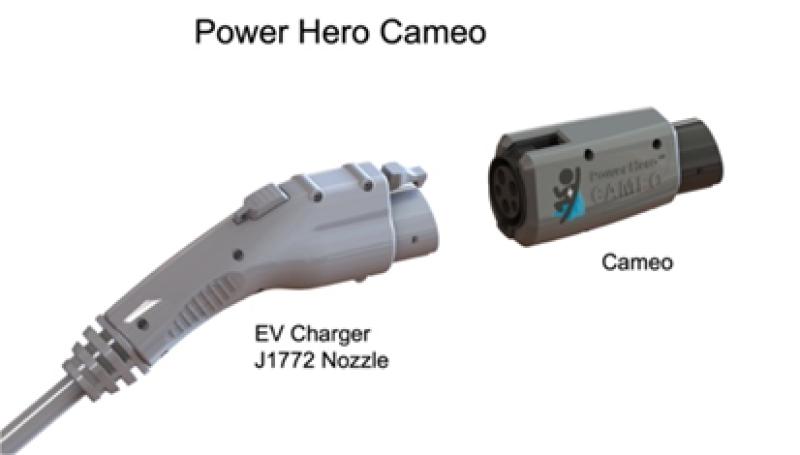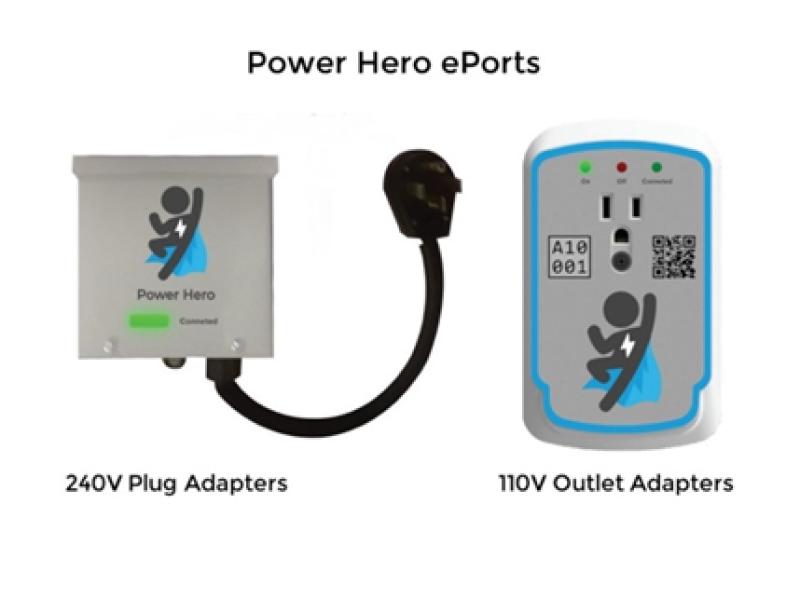 Minimal investment
Power Hero focuses on scaling the existing grid with minimal infrastructure investments. It is the only company combining economy sharing and IoT to solve this problem. A Power Hero host will not require replacing his/her entire EV charger. All the homeowner has to do is sign up to Power Hero's PowerNetTM service as a "Hero" (host) and they will get a small Cameo adapter in the mail that they just plug onto their charger's J1772 nozzle, and bingo! his/her charger would become reservable and compatible with any EV.
Power Hero's IoT hardware will enable the most cost-effective level-2 chargers and ordinary outdoor power outlets to be controlled by its smart network for reservations and brokering. This will make it easy for any homeowner, landlord or business to offer EV charging.
Power Hero has been working on its Cameo product for years. Finally, it is here, and patented!
February 2017, the company raised $150K in seed funding, one month after incorporation.
March 2017, IBM awarded the company with free use of its cloud platform Bluemix.
June 2017, a working prototype of ePortTM was unveiled which converts an ordinary wall outlet into a smart reservable outlet.
December 2017, began partnering with Arrow Electronics for hardware sourcing, development and middle-ware IoT support.
February 2018, began development of their PowerNetTM cloud platform for their mobile app.
September 2020, granted U.S. patent by the US Patent Office for their PowerNet network and ePort.
February 2021, granted U.S. patent for their Cameo.
June 2022, granted Australian patent for PowerNet and ePort.
August 2022, U.S. patent issued for mobile charging station that you can summon to rendezvous with your EV to charge at a site of your choice.
October 2022, the Cameo (prototype) demonstrated to function flawlessly with two public Level 2 charger and a Level 2 home charger.
Experienced management team
The company has a proven and experienced team with strong supply-side and distribution partnerships. This will help ensure success, scale quickly, minimize costs, and generate significant returns. All C-level members have successfully managed start-ups and growth-phase companies in the CEO role, with a proven ability to scale businesses both domestically and internationally.
Esmond Goei - CEO, Chairman & Co-Founder. Esmond is a serial entrepreneur with many successful startups and turnarounds spanning 30+ years. He started Power Hero, on a full-time basis, in January 2017 after selling a modular solar powered battery systems company, which he founded in 2009 and was CEO until it was sold in 2016. He has participated in several other emerging companies with successful gains upon their IPO or sale such as a multi-media messaging company (IPO), a wireless hospital bedside information systems company (IPO and subsequently acquired), an organic baby foods company that was sold to Heinz, and an electronics toy company (IPO). He has delivered outstanding gains on investment to his investors with many IPOs and sales of his invested companies some of which garnered valuations over a billion dollars. Esmond is an electrical engineer with an MBA from Western University.
Rob Kent - CMO, Vice-Chairman & Co-Founder. Rob joined Power Hero in August 2017 as a Director and was appointed as Vice-Chairman and CMO in February 2018. He is an IoT innovator in the medical device sector where he served as CEO for O2 Concepts (2014 -2017) a manufacturer of networked portable home oxygen devices. Partnering with Verizon, they were the first to offer remote monitoring and device tracking – generating 5X growth while deploying over 20,000 units. He has experience building and managing rapid growth businesses in highly regulated environments. He is particularly adept at leveraging partnerships with developers and manufacturers to rapidly bring products to market, and strategically positioning technology for unique competitive advantages. Rob holds a BS in Economics from the US Naval Academy and an MBA from UC Irvine.
Howard Kim - Director & Corporate Advisor. Kim is a veteran in the communications industry with more than 30+ years' experience. His tenure includes executive management stints at Sycamore Networks as its Managing Director of Asia-Pacific Operation, as the Vice President and General Manager of Asia-Pacific Operations for Hypercom Network Systems, and as Regional Director of Sales of Asia-Pacific Operations for Cascade Communications (since acquired by Lucent Technologies). He has also served in various sales, marketing, and technical positions with some of the leading communications and networking companies, including, StrataCom (Cisco Systems), Ungermann-Bass (UB Networks), Compression Labs, California Microwave, and GTE Corporation (Sprint Communications). He has been an advisor to Hitachi Japan on global M&A and investments for 10 years. Mr. Kim holds a BS in Electrical Engineering from Texas A&M University, and an MBA from the University of Phoenix.
Armando Castro - Director & Legal Advisor. Armando has been a Partner with Pillsbury Winthrop Shaw Pittman LLP since 2014. His industry background includes financial technologies and payment systems, cyber security, software and wireless technologies and has worked with high profile clients include Facebook, Chevron, and Deutsche Bank. Armando is a Stanford Graduate, with a JD from Loyola Marymount. He is also a certified public accountant (CPA).
Here are the top 8 reasons to follow Power Hero!
The number of electric vehicles on the road is rising fast. The U.S. is expected to have 48 million EVs on the road by 2030, up from about 2 million (including PHEVs) at the end of 2021.
The growing number of EVs need a robust charging infrastructure. The current charging stations is far too few to meet the growing demand for charging.
Development of EV charging infrastructure is a key government priority. A robust charging infrastructure is a pre-requisite for the growth of EVs.
Power Hero's Cameo can convert any home charger into a networked one, at a very nominal cost. It offers the first dynamic peer-to-peer marketplace for EV charging.
The Cameo (prototype) is demonstrated to function flawlessly with public Level 2 chargers.
The company owns the U.S. patent on the Cameo and 3 other issued patents, with more pending.
It has an experienced management team with strong supply-side and distribution partnerships.
EV charging is a second chance to participate in the EV Boom while stock prices are low, and Power Hero is a company to follow.
Sources:
https://www.pwc.com/us/en/industrial-products/publications/assets/pwc-merge-ahead-electric-vehicles-supply-chain.pdf
https://investors.chargepoint.com/why-invest/default.aspx
https://www.mckinsey.com/industries/public-and-social-sector/our-insights/building-the-electric-vehicle-charging-infrastructure-america-needs
https://www.iea.org/reports/electric-vehicles
https://www.iea.org/reports/global-ev-outlook-2022/trends-in-electric-light-duty-vehicles